New Kia SUVs
Available at WestGate KIA
Which Kia SUV Is Right For You?
If you're looking for a new SUV in Raleigh or Millbrook, then the Kia SUV lineup can't be missed. With options for every lifestyle, the Kia SUV lineup includes the compact Seltos and Sportage, the midsize Sorento, and the roomy Telluride. Take a look at how the new Kia SUVs stack up.
Kia Seltos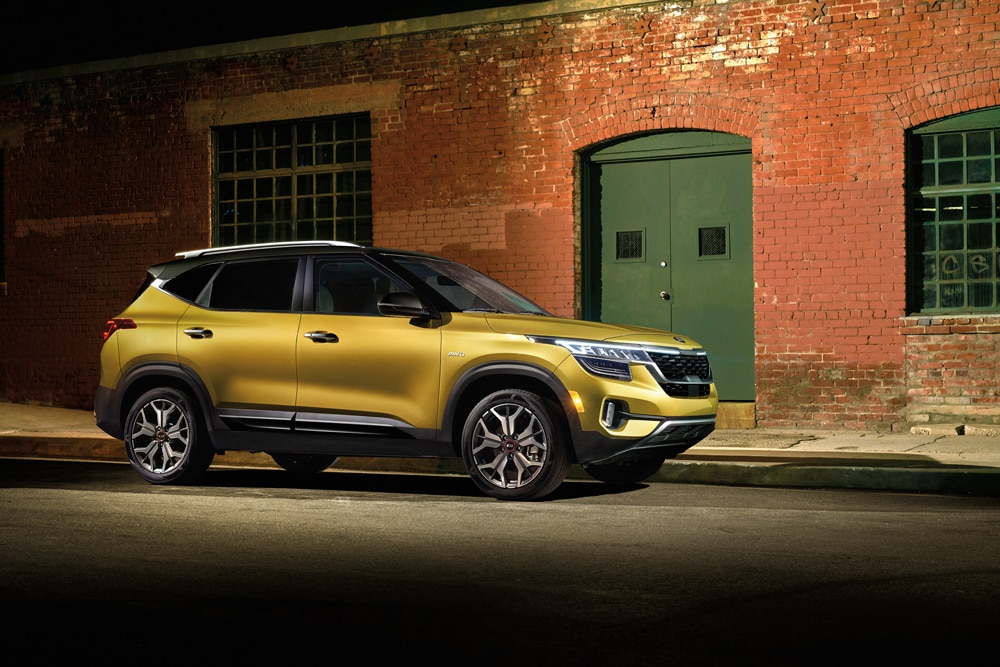 The Kia Seltos is an all-new model in the Kia SUV lineup. It offers class-leading cargo space and a rear seat that can fit adults. Most models have AWD, and most models also have an active safety feature suite. The Seltos is a city-friendly subcompact SUV, but it has plenty of rugged styling as well. Along with AWD, the Seltos features a locking center differential and decent ground clearance. The Seltos comes with two engine choices in the 2.0-liter four-cylinder that makes 146 horsepower and a turbo 1.6-liter that makes 175 horsepower. The combined fuel economy for the LX and EX trims with the 2.0-liter engine is 29 MPG. The combined fuel economy for the S 2.0 trim averages 31 MPG. The top trims of the S 1.6 and the SX with the turbo four offer 27 MPG combined fuel economy.
Kia Sorento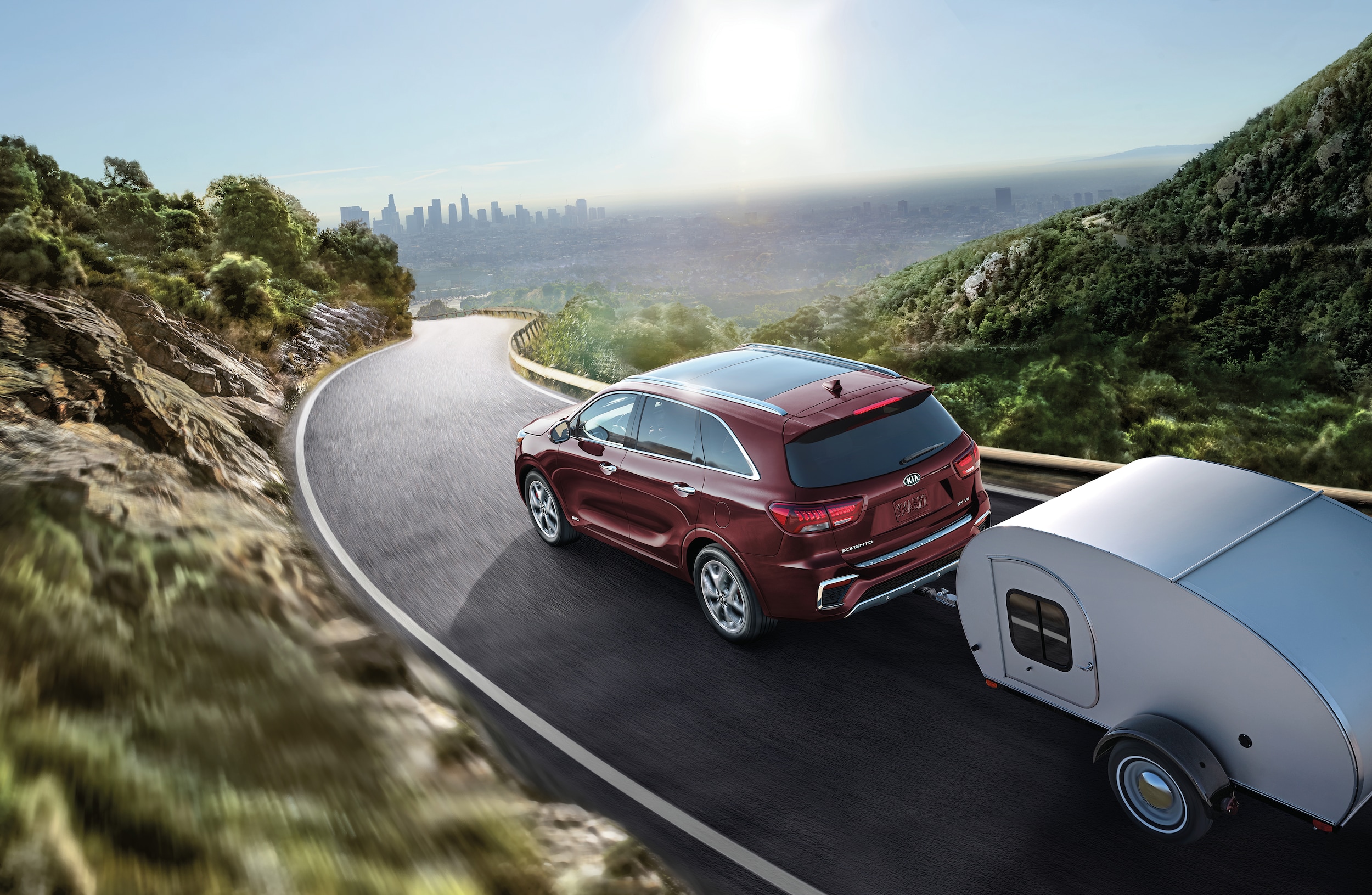 The Sorento sits in the popular midsize SUV class but is on the smaller end of the scale, which allows it to be more maneuverable in urban conditions. The entry-level Sorento trims come with a standard four-cylinder engine that puts out 185 horsepower. Moving up to the S trim offers a 3.3-liter V6 engine that puts out 290 horsepower. The base engine comes with a six-speed automatic transmission, while the six-cylinder comes with an eight-speed automatic. FWD is standard, but you can add AWD on all models above the base trim. The city/highway fuel economy on the four-cylinder is 22/29 MPG with the FWD layout and 21/26 with AWD. The V6 gets 19/26 with FWD and 18/24 with AWD. The Sorento can be outfitted to tow up to 5,000 pounds when properly equipped.
Kia Sportage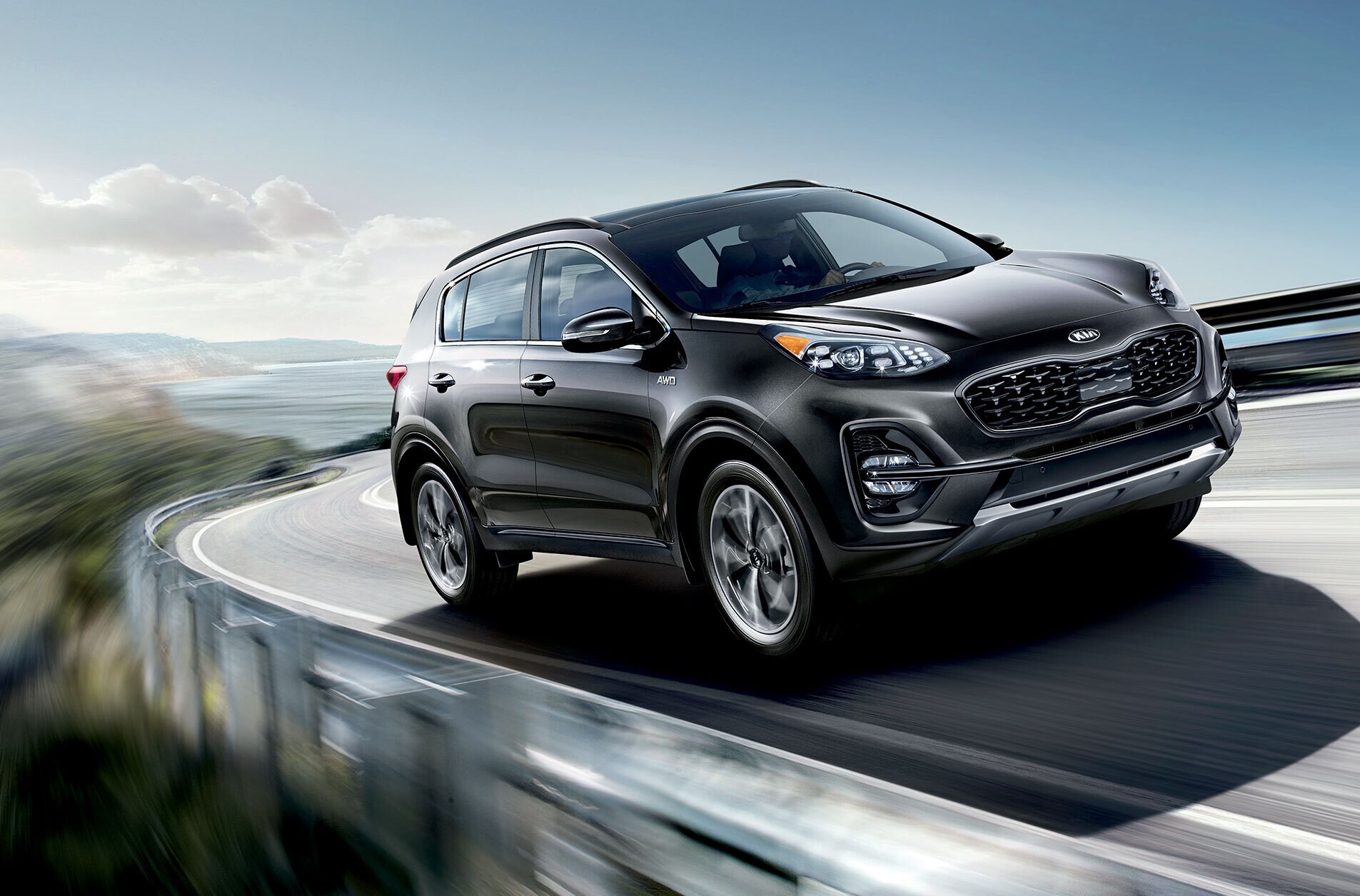 The compact Sportage offers plenty to like for drivers across the board with two choices of engine, driver-assist features, standard eight-inch touch screen, and one of the best powertrain warranties available at ten years or 100,000 miles. The standard 2.4-liter four-cylinder engine has plenty of horsepower at 181, but you can also move up to the 240-horsepower turbo 2.0-liter for some extra energy. Both engines come with a six-speed automatic transmission. AWD is optional on all Sportage trims, while FWD is standard. The city/highway fuel economy for the 2.4-liter engine is 23/30 MPG with FWD and 22/26 with AWD. The fuel economy for the turbo 2.0-liter is 20/28 city/highway with FWD and 19/24 with AWD. The Sportage can also be equipped to tow up to 2,000 pounds.
Kia Telluride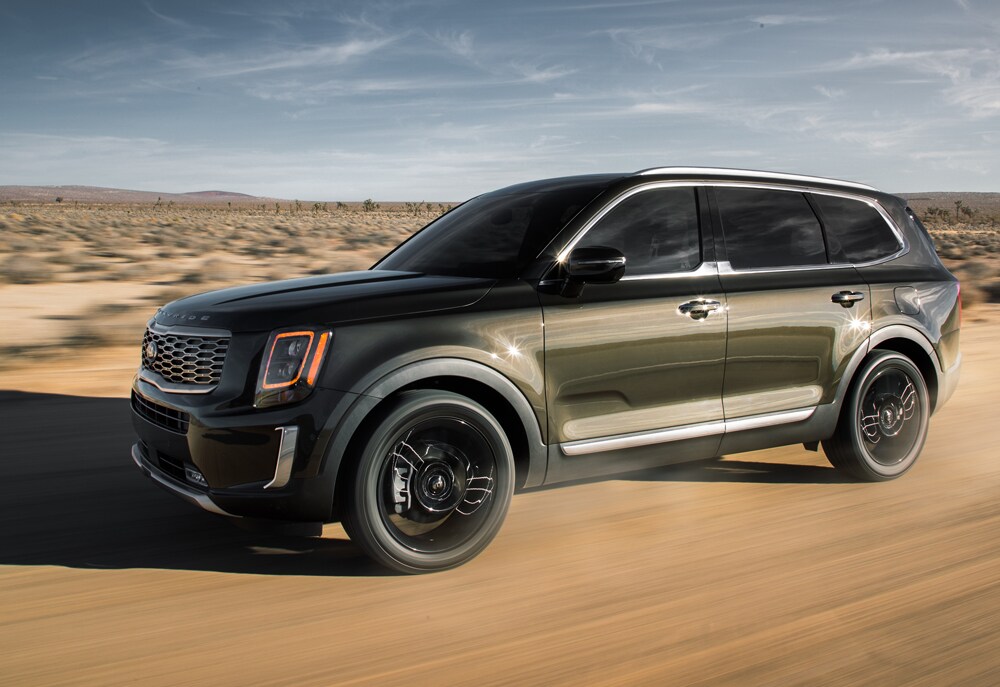 The Telluride offers the roomy, three-row styling that American families love. It features seating for eight people, plus a standard 3.8-liter V6 engine and available AWD. The Telluride has an eye-catching design that feels more like a luxury SUV than the average family-hauler. With plenty of standard safety features, plus driver-assistance features, the Telluride competes easily with other popular SUVs in its segment. The Telluride offers 21 cubic feet of cargo space behind the third row. If you fold the third row down, then the cargo space is doubled at about 46 cubic feet. Four trim levels are available on the Telluride in the LX, S, EX, and SX. The top SX trim offers a dual sunroof, LED fog lights, and headlights, plus 20-inch, dark finish aluminum wheels. Fuel economy on the Telluride is 20/26 MPG city/highway with a FWD model and 19/24 MPG on an AWD model.
Kia SUV FAQs
Can I purchase additional features for my Kia SUV? 
The great thing about Kia SUVs is that you can personalize them however you like! You can choose to add on a wide variety of features to make your Kia SUV unique and personable to you. 
Are there Kia Hyrbid SUVs available? 
There are various Kia Hybrid SUVs available to purchase. Designed to be sustainable and friendly to the environment, hybrid SUVs are a great way to enjoy a larger vehicle while committing to a green future. 
Are there Kia electric vehicles available? 
A: Electric vehicles mean you don't have to worry about gas and oil changes ever again. You can enjoy driving long distances in style with various electric vehicles made by Kia.
What SUV Models Does Kia Make?
Kia offers a wide range of SUV models to suit different needs. These include the following: 
Sportage: The Kia Sportage has been designed with cutting-edge technology while focusing on comfort and safety. 

Sorento: The Kia Sorento features seven seats and a high-quality design. 

Niro Hybrid: The Niro Hybrid is a Kia Hybrid SUV that was built with energy efficiency at its core. It includes both a combustion engine and an electric motor for a pleasant driving experience. 

Niro Plug-in Hybrid: The Niro Plug-in Hybrid was built to contribute to a green future. The seats of this Kia Hybrid SUV are made from 100% recycled materials, with sustainability being prioritized during the design process. 

Soul EV: The Soul EV provides you with long-range driving without having to worry about filling up at local gas stations or worrying about oil changes. It has instant acceleration with zero emissions. 

Niro EV: The Niro EV comes equipped with easy charging and long-range driving. 

Stonic: The Stonic is a new Kia SUV that features a sleek and sporty body and styling. It provides outstanding performance when out on the road. 

XCeed: The Kia XCeed is high off the ground and comfortable for drivers who travel long distances. It features a sporty silhouette and comes equipped with all of the latest technological features. 
Is Kia SUV a 7-seater?
Depending on the type of Kia SUV you're interested in, seven-seater models are available. The Kia Sorento is extra spacious and includes seven seats, perfect for large families who want to travel in comfort and style.
What Is the Luxury SUV of Kia?
While all Kia SUVs are known for being sophisticated and luxurious, the most luxurious Kia SUV on the market is the Sorento. The Kia Sorento includes a panoramic sunroof, captain chairs, wireless connection and a stellar fuel economy of 37 MPG. It has heated and cooled seats, USB ports on every seat, and all of the safety features needed for a comfortable driving experience.
Which Kia SUV Is Bigger?
The Kia SUV Telluride is the largest KIA SUV available. It can comfortably fit eight people and is packed with all of the latest technologies, making it a cutting-edge vehicle with an award-winning design. 
Popular with families who need a lot of room but don't want to compromise on style, the Kia SUV Telluride is easily the biggest Kia SUV on the market. 
Are Kia SUVs Good Quality?
Kia SUVs are generally viewed as being great quality for money. They're fitted with a luxurious interior, have all the required technological advancements and receive great safety scores year after year. 
Kia SUV models are reliable and steady, providing you with high performance and design for years to come. They're great for individuals and families looking for a luxurious and comfortable driving experience. 
Here at Westgate Kia, proudly serving Wake Forest, Raleigh, Cary, Durham, Knightdale and Wendell, we know that there's a lot more to buying a car than... well, simply buying a car. Call our sales department today or fill out our online form. Visit Westgate KIA Today!
Stop by Westgate KIA in Wake Forest, NC today to explore the brand new Kia SUV lineup and take one for a test drive. Be sure to check out our new and used vehicles online and apply for financing from the comforts of home today.
Make an Inquiry
* Indicates a required field